For local resources,
choose a city page in California: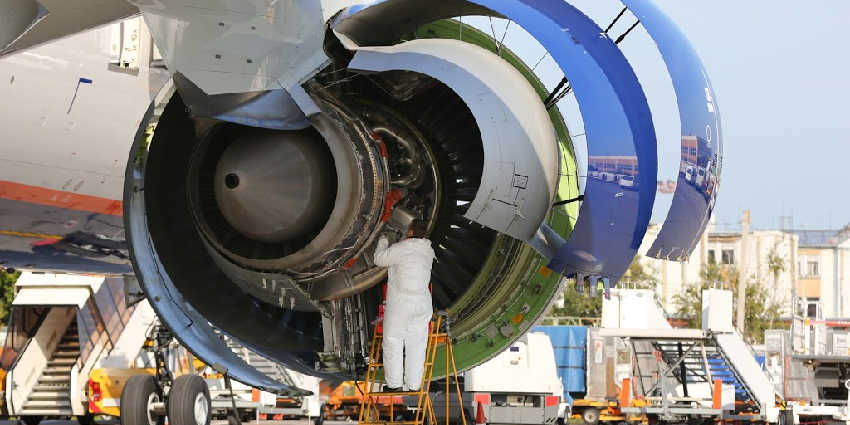 Aircraft Mechanic Jobs California
What's the Job Outlook for A&P Mechanics? Aircraft mechanic jobs in California should continue to grow, according to the Bureau of Labor Statistics. Their study suggests that the number of people working in aviation mechanic jobs will increase by 7% between 2008 and 2018.
---
This growth will be primarily caused by an increase in air traffic due to growing worldwide populations, economies, and increased desire for travel. As the airlines and associated industries expand, the need for A&P Mechanics will go up accordingly. Read more about aviation maintenance technician salaries.
In the coming years, many job openings will be created by retiring A&P Mechanics and others leaving the industry to work in related jobs like auto and diesel repair. If you become an aircraft mechanic, you can rest assured knowing your trade crosses over to many other industries.
A&P Mechanic Jobs in California
A&P mechanic jobs are in high demand in California. The highest paying aircraft mechanic jobs in California are found at the major airlines. As can be expected, competition for these jobs is also huge. However, you're most likely to get a job at a regional airline or discount airline, because these types of carriers are growing quickly. But don't expect the same pay and benefits as the majors.
How to get your license, training requirements, eligibility, and links to more info. To earn your A&P License, you must attend a Federal Aviation Administration (FAA) certified AMT school OR have at least 30 months of relevant civilian or military work experience (supervised by a certified aviation mechanic). The FAA issues the A&P certificates (airframe and powerplant), and mechanics can get either an airframe rating or a power plant rating or both--most mechanics get both. Those who want a certificate with just a single rating and who base their application on practical experience must demonstrate 18 months of work experience applicable to the chosen rating. Learn more about the training and experience requirements to become an aircraft mechanic.
After your education or training qualifications are met, you'll be eligible to take the required oral, practical, and written tests. You must pass all these tests within 24 months. The tests cover 43 technical subjects. Typically, tests for one certificate--airframe or power plant--take about 8 hours. (Get more details about the A&P Mechanics Tests.) When you pass, you will have earned your FAA mechanic license with airframe and/or powerplant certificates (A&P license), and you'll be on your way to a successful career in aviation maintenance! Learn more about aviation maintenance technician training now.
A&P License Currency
Although your A&P certificates don't expire, you must remain "current" by meeting several criteria, including completing a minimum of 1,000 hours of hands-on work experience during the previous 24 months (or completing a refresher course) and completing at least 16 hours of additional training every 24 months. The additional training requirement is usually satisfied by attending manufacturer events or training with outside contractors hired to conduct the training.
Avionics Technician Specialty Training
As an A&P mechanic, if you have the training, qualifications, and tools, the FAA will allow you to work on avionics as well. Avionics technicians are not specifically required to have FAA certification if they received their avionics training in the military or from working for an avionics manufacturer.
A&P Mechanic Training: Using Veteran's Benefits
Your veteran's benefits, especially the Post 9/11 GI Bill, are one of the best sources of funding available to pay for A&P mechanic training. With the Post 9/11 GI Bill, you can be reimbursed for up to 100% of your aviation mechanic training expenses. This is a sizeable amount of funding that goes a long way toward making you an A&P mechanic, but there are a few things to consider before taking the leap.
A&P mechanic training expenses can be covered up to $10,000 dollar per academic year. Qualified veterans can use Post 9/11 GI Bill benefits to cover 100% of their training costs up to $10,000 dollars per academic year. Depending on the program, this is a big portion of the expense of aviation mechanic training. While it is worth noting this limitation, it is hardly causing alarm since it covers or severely reduces the costs of most A&P mechanic courses.
Aviation mechanic training programs require VA approval for reimbursement. An arguably more important consideration before beginning your A&P mechanic training is whether a particular training provider is approved by the VA. The good news is there is a pretty standard process and it isn't a secret whether a school is approved.
The only potential catch is that the VA must also approve individual courses before they will reimburse your flight training costs. This means that while a school may have approval, every course they offer isn't necessarily covered by your Post 9/11 GI Bill benefits.
Aviation mechanic training is improved by the approval process. The requirements for receiving an A&P mechanic certificate are standardized, but there is still a lot of variation in training programs. Since the VA mandates a fairly stringent approval process and there are ongoing paperwork requirements, most schools have a VA representative who is very familiar with the system.
This representative, the approval process, and the paperwork have a net effect of improving the quality of your aviation mechanic training by weeding out weak training courses and keeping you active in your training. Once you start training, most of the paperwork can be managed for you, allowing you to focus on your A&P mechanic training.
In fact, this is the most important takeaway. The stringent requirements of the Post 9/11 GI Bill create better-equipped schools, more efficient training courses, and save you money during your aviation mechanic training. For more information and to verify your eligibility, call 1-888-GIBILL-1 or check out the GI Bill website
How the FAA Mitigates the Impact of Bad Weather
They include ground stops, which keep aircraft on the ground when air traffic control is unable to safely accommodate additional aircraft in the system, ground delays, in which aircraft are delayed at their departure airport in order to manage demand and capacity at their arrival airport, and Severe Weather Avoidance Plans, which minimize the impact of a large scale storm by easing traffic demand in portions of airspace impacted by the storm. Other tools include:
- The Airspace Flow Program which identifies aircraft scheduled to fly through severe weather and provides new estimated departure times, giving airlines the flexibility to accept the delay, fly around the storm or cancel the flight.
- Time Based Flow Management is a technology used to adjust capacity and demand imbalances at select airports and points in the sky throughout the U.S., while Traffic Management Advisor is a comprehensive, automated tool for planning efficient flight trajectories from cruise altitude to the runway.
- The fully-automated NextGen Weather Processor identifies safety hazards around busy airports and at high altitudes, and also provides support for strategic traffic flow management, including weather information needed to predict routes blocked by bad weather up to eight hours in advance.
- The Aviation Weather Display consolidates previously separate weather displays, providing important weather information at a glance for controllers.
Fixed-Wing Aircraft Factoid Maintaining the Aircraft
Airframe, engine, and aircraft component manufacturers are responsible for documenting the maintenance procedures that guide managers and technicians on when and how to perform maintenance on their products. A small aircraft may only require a few manuals, including the aircraft maintenance manual. This volume usually contains the most frequently used information required to maintain the aircraft properly. The Type Certificate Data Sheet (TCDS) for an aircraft also contains critical information.
For local resources,
choose a city page in California: