For local resources,
choose a city page in California:

Choose the Best Flight Training Courses in California
Follow this easy five-step plan to find the best flight training in California to prepare you to become a pilot. You've made the decision to attend flight training in California and you want to become a private or commercial pilot in California. You know flying is in your future, but now what? How do you get started with flight training in California? So, what's the next step?
---
The good news is that the road to flight training and becoming a pilot is very defined. Unfortunately, sometimes the road is a little hard to find. If you're not sure how to become a commercial pilot, keep reading for an easy five-step 'flight' plan that will see you through to your pilot qualifications.
1) Test the waters of flight training programs
Don't immediately run out and sign up for the first flight training course you find. Start with a small step; find a school or independent flight instructor that will take you up for an introductory flight. These are usually pretty inexpensive, maybe $100 to $150 for an hour.
The benefit to introductory flight training is that you get to experience flight training in a small plane with an instructor. You'll definitely learn a lot in that hour and you should actually get to take the controls. The key takeaway for this exercise is to establish whether you actually like controlling the plane.
2) Make sure you're medically qualified*
Ask any pilot and they'll tell you that the hardest part of flying isn't actually controlling the aircraft, it's the paperwork. The truth is, there is a lot of paperwork, but no more than any other licensed professional. The paperwork creeps in a little bit early in flight training, but for the most part, it's just you and your instructor and eventually just you flying free.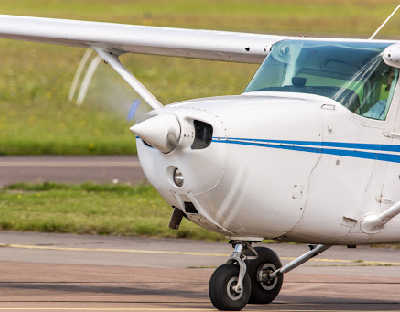 Now, this may come as a shock, but there is one vital piece of paperwork that should be handled very early, maybe right out of the gate -- the medical certificate. The process isn't terribly different from a typical doctor's visit, but you have to select from a list of specific doctors, known as Aviation Medical Examiners, and you have to fill out a form.
The doctors typically charge a fee for the visit, but they give you a pretty thorough physical and if you pass you'll be issued a student pilot / medical certificate. You can find out more about specific requirements on the FAA medical certification FAQ. This isn't meant to scare you away, but flying is a serious business and everyone wants to make sure everybody is safe.
Getting your medical out of the way early on will keep your training from being interrupted while you have to sort out a medical issue, like switching medications, or worse finding out you'll never be able to solo.
* a medical certificate is not required for those earning a Sport Pilot Certificate. However, Sport Pilots must have a valid state driver's license
3) Consider your flight training goals
You need to be honest and ask yourself a few questions. First, what are your goals; what's your plan? Maybe you're looking for a new hobby. Perhaps you're tired of booking airline tickets last minute and you're looking to fly yourself to that next business meeting. Why does this matter? Flight training isn't one-size-fits-all.
The program that is perfect for the twenty-year-old future airline captain isn't necessarily perfect for the fifty-year-old bank CEO. So, as boring as it sounds, take a few minutes and ask yourself what your intentions are.
4) Find the right flight training course or school in California
The next step is to find flight schools, whether large or small and contact them. Whether you actually visit the schools or you call or email, you want to get a little bit of information before you commit yourself. You want to talk to them about your goals. You also want to talk to them about their school and staff.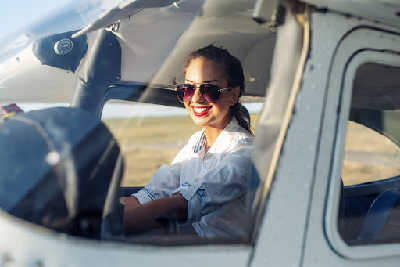 If you're looking for a school that will let you zip through the ratings on your way to a job interview, you want to know how many instructors they have on staff, how many other students they have, and how many aircraft they have available. All three of those items will directly affect the speed with which you can complete your flight training.
You should also ask whether you will have one instructor or several. It may seem strange, but you may have chemistry with a certain instructor that will benefit your learning more than finishing faster.
If you are looking to get into an airline and you don't already have a four-year degree, you may want to look for a university program, such as the University of North Dakota's Commercial Aviation Degree, that will let you complete your flight training and four-year degree at the same time.
5) Enjoy your flight training in California
The final step is to pick a school and have fun. Learning to fly is incredibly rewarding. You will learn a lot about yourself and meet some of the most interesting people. The most important things are that you understand that no one wants to see you fail and remember that any flight school can provide the same result; the difference is in how well it fits you and your goals.
How much does Flight Training cost? Like anything more significant than buying groceries, pilot training has a certain level of associated costs. If you're in the process of finding a Flight Training or even if you've already started pilot training, you may find yourself wondering, "How much is too much?"
The good news is that pilot training costs consist of a few basic building blocks; the bad news is the costs can fluctuate for a variety of reasons.
Average Costs In The USA For Various Types Of Flight Training in California
Sport Pilot License - $3,000 to $5,000
Private Pilot License - $6,500 to $12,000
Private + Commercial License - $10,000 to $16,000
Private + Instrument + Commercial - $18,000 to $24,000
Private + Instrument + Commercial + ATP - $30,000+
Flight Training Instruction Costs in California
Depending on the pilot training course, the FAA requires a minimum of 35 or 40 hours before you can qualify for a Private Pilot Certificate. Most students actually take longer, averaging about 60 hours of training. While this is certainly an important item to consider, there are plenty of other items that are often overlooked. Exam fees, both written and check ride, books, and other materials are an important part of Flight Training costs.
Exam fees can range from anywhere from $100 to $400 or more depending on the examiner. Books and other materials--like a flight computer, logbook, and navigation plotter--are less costly, but combined can add up to around $100 or more.
Flight Training Scholarships in California
A question that often comes up when you're considering flight training is whether or not there are scholarships available. The short answer is "yes", but that doesn't really help much when it comes to finding these often elusive sources of funding. The real trick with flight training scholarships is realizing that it takes time and energy to find, apply for, and receive them.
None of them just drop in your lap, and like college scholarships, there are more small scholarships than large ones. You're more likely to find several scholarships that add up to a substantial dollar amount than you are to find a single scholarship to cover all of your training. So, where can you find scholarships? As a start, you might want to consider the following: Flight Training, aviation organizations, and conventional scholarships.
How the FAA Mitigates the Impact of Bad Weather
They include ground stops, which keep aircraft on the ground when air traffic control is unable to safely accommodate additional aircraft in the system, ground delays, in which aircraft are delayed at their departure airport in order to manage demand and capacity at their arrival airport, and Severe Weather Avoidance Plans, which minimize the impact of a large scale storm by easing traffic demand in portions of airspace impacted by the storm. Other tools include:
- The Airspace Flow Program which identifies aircraft scheduled to fly through severe weather and provides new estimated departure times, giving airlines the flexibility to accept the delay, fly around the storm or cancel the flight.
- Time Based Flow Management is a technology used to adjust capacity and demand imbalances at select airports and points in the sky throughout the U.S., while Traffic Management Advisor is a comprehensive, automated tool for planning efficient flight trajectories from cruise altitude to the runway.
- The fully-automated NextGen Weather Processor identifies safety hazards around busy airports and at high altitudes, and also provides support for strategic traffic flow management, including weather information needed to predict routes blocked by bad weather up to eight hours in advance.
- The Aviation Weather Display consolidates previously separate weather displays, providing important weather information at a glance for controllers.
Fixed-Wing Aircraft Factoid Maintaining the Aircraft
Airframe, engine, and aircraft component manufacturers are responsible for documenting the maintenance procedures that guide managers and technicians on when and how to perform maintenance on their products. A small aircraft may only require a few manuals, including the aircraft maintenance manual. This volume usually contains the most frequently used information required to maintain the aircraft properly. The Type Certificate Data Sheet (TCDS) for an aircraft also contains critical information.
For local resources,
choose a city page in California: