For local resources,
choose a state page below: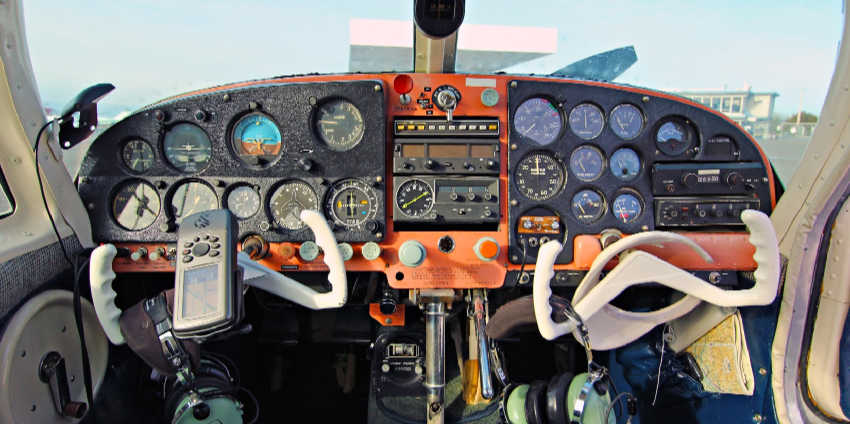 Get IFR Training in
Learn about earning your instrument rating IFR in. What it takes and what to expect. Whether you fly just for personal reasons or are planning an aviation career, you'll eventually want to earn your instrument rating. The IFR rating allows you to fly in less than VFR conditions as long as both the pilot and aircraft meet all of the appropriate currency requirements. We've compiled incredible resources to help you get started.
---
What is IFR and what does it stand for? IFR means "Instrument Flight Rules." Basically, it's all about learning to fly through instruments and not by sight. Learn more about IFR Training, Accelerated Instrument Training, and 10 Day Instrument Rating. Earn your Instrument Rating by contacting your local IFR flight training school offering instrument training and 10-day instrument rating courses.
Many instrument pilots file IFR flight plans and fly "in the system" regardless of weather because of the multitude of air traffic control (ATC) services available. IFR aircraft enjoy benefits not always available to VFR flights including radar separation services, clearances through the airspace, constant communications with ATC, instant help via radio in case of an emergency, and the ability to penetrate clouds as necessary (pilot and aircraft permitting) to complete the mission. Get info on instrument rating aircraft.
As a newly-minted instrument-rated pilot in, you'll quickly discover that the rating is a license to learn. Most certified flight instructors-instrument (CFIIs) suggest that their students file IFR on most every flight for at least a year to get used to operating in the ATC system. And most IFR flights will include at least one or two new lessons on how the system works.
Do You Need the Instrument Rating in?
Pilots whose ultimate goal is to fly for a living in must earn their instrument rating as a matter of fact. However, the vast majority of private pilots do not have to get the instrument rating, and most don't. However, as pilots, we've all heard that earning your instrument rating will make you a better pilot, and it's true. If you get the chance to earn your rating, do it.
Instrument Rating Training - Is traditional or accelerated training right for you? There are two types of instrument rating training available: traditional and accelerated.
Traditional instrument training fits the training into your lifestyle, and you will typically fly a lesson or two per week while learning the ground training materials required for the instrument knowledge test.
This process can take anywhere from three months to a year or more to complete. The benefits of traditional training are that you can complete the training on your schedule without too much disruption to your lifestyle. Drawbacks to traditional IFR training in are that with flight lessons few and far between, you may end up repeating segments of, or even entire training flights in order to master all the skills involved with flying by the gages.
Traditional training is offered at most local airports and flying clubs. Traditional IFR training in is right for you if you want to spread out the training and expenses and can retain information and focus over long periods of time.
Accelerated instrument training in typically requires students to block out 10 to 12 days for the sole purpose of earning the instrument rating. Accelerated programs usually require you to have already passed the instrument knowledge test (written) before the training begins.
Expect to spend eight hours per day in ground and flight training. At the end of accelerated training, you will take your instrument practical test (oral and flight test) and end the training with your instrument ticket in hand. The benefits of accelerated training include total emersion in the program which allows students to retain more information in less time and to correlate information learned quickly.
Accelerated students spend less time "re-learning" skills because the information is still fresh as they move from lesson to lesson. Accelerated IFR training is right for you if you have a hectic and busy lifestyle and cannot fit weekly studies and lessons into your schedule, and you have the money to pay for expenses upfront. Read more about instrument ratings.
Instrument Rating Training Requirements in
Whichever training scheme you decide is best for you, you'll have to meet the Federal Aviation Administration's (FAA) requirements for earning the instrument pilot rating. Instrument pilot candidates in must...
Hold at least a private pilot license
Be at least 17 years old
Read, speak, write, understand, and enunciate the English language
Possess an FAA medical certificate (first, second, or third class)
Receive and log ground training from an authorized instructor or complete a home-study course using an instrument textbook and/or videos.
50 hours pilot in command time cross-country
40 hours of simulated or actual instrument time (up to 20 in an approved simulator or flight training device)
Completed an IFR cross-country flight of at least 250 nautical miles on airways or ATC routing with a minimum of three different types of instrument approaches
3 hours of instrument training from a CFII in the preceding 60 days before taking the practical test
Logbook endorsement from you CFII on instrument knowledge covering all IFR operations
Pass the FAA Instrument Pilot Knowledge Test (computerized written test)
Pass the FAA Instrument Pilot
Practical Test (oral and flight test with a designated examiner)
For local resources,
choose a state page below: